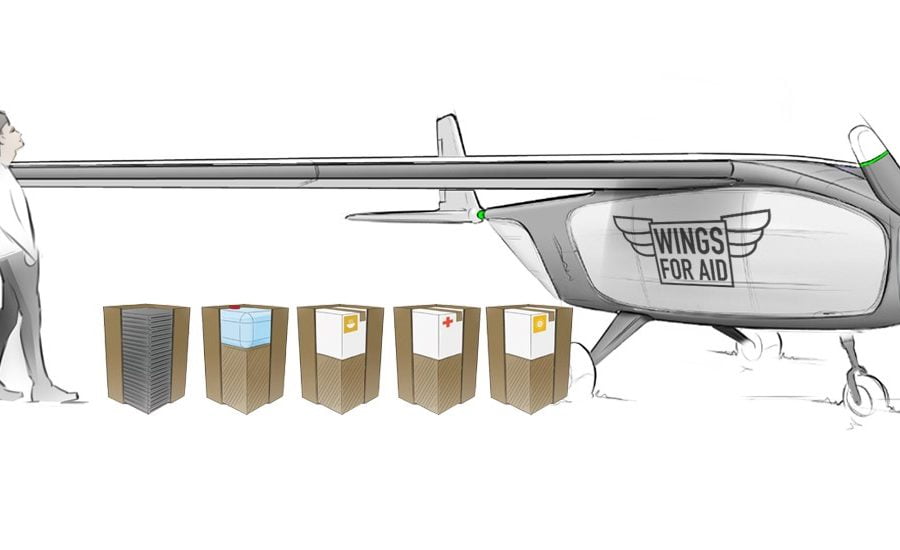 Fast and reliable delivery of medicine, basic food and water and other disaster relief in remote areas that have been impacted by a natural disaster is nearly impossible. Mostly, the road and telecom infrastructure is heavily damaged, which makes bridging the 'last mile' a big challenge for humanitarian aid organizations. Fortunately the solution is at hand, when parties unite and act together.
The Wings for Aid Foundation aims at introducing solutions that enable fast mobilization and delivery of aid supplies to people in need. The Foundations leads a consortium, which consists among many others of Industrial design company VanBerlo and Delft University of Technology, for the development of an unmanned efficient cargo aircraft that is able to reach remote areas. During the flight, the cargo drone is able to precisely drop aid packages at exact locations to get it to people in need.  The project includes many innovations, such as an advanced anti-collision auto-pilot system and bio-based cargo boxes that are able to drop in a controlled manner from a flying aircraft (without parachute) and absorb the large forces of ground impact.
TechForce is part of the Wings for Aid consortium since 2015 and applies for subsidies to boost the realization of the complete technology roadmap. In addition, TechForce assists in developing business propositions and reporting to the project's donors, mainly the Dutch Ministries of Defense and Economic Affairs (Kansen voor West).
Curious?
Read the UN World Food Programme article on Wings for Aid:
https://innovation.wfp.org/project/uavs-cargo-delivery
See the first in-country test flight here:
https://www.linkedin.com/feed/update/urn:li:activity:6418950053460795392